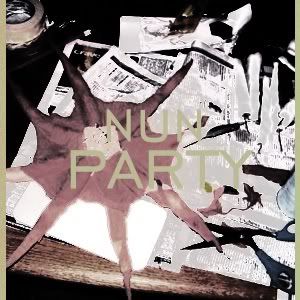 A new American indie pop label that gives away free music every Friday? Yes. We scour the world for the greatest new songs so you don't have to. No stone is left unturned. You are a child, and we are your parents.
This is the promise of
Holiday Records
, one of our favorite DIY labels. We've gotten several cool EP's and whatnots so far in 2010 and it has been a shame we haven't given them the attention they so rightfully deserve. Perhaps we shall remedy that by making this Holiday Records Week at SubEx, and by 'week' I mean as many days in a row until our A.D.D. kicks in.
Day 2: Like yesterday's featured artists, The Hairs,
NunParty
also hails from Brooklyn, NY. It took me a couple of listens to get used to just how raw and lo-fi their album really is, but now that I'm over it I'm really enjoying it. Like listening to music from the 1950's being performed on instruments from the 2010's by ghosts from the 1960's. That is to say that I find a quite haunting quality to its beauty.
MP3:
NunParty - Architect of My Heart
NunParty's EP [
zip file
]
=w=