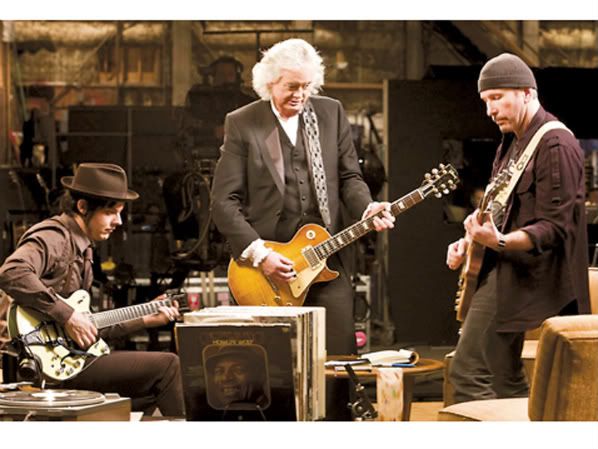 The electric guitar documentary "It Might Get Loud" was finally released in Dallas today. I haven't been this excited about a movie in a long time, which I think is due largely in part to my girlish-like obsession with Jack White. I mean it I seriously love this guy. Which lead me to wonder if under the right circumstance I would in fact go gay for him. I honestly can't say that I wouldn't. So, instead of questioning my sexuality like a normal man, I opted instead to compile a list of all the musicians I'd go gay for.

Jack White
The great thing about White is that he'd always keep you guessing. What's he going to do next, produce a country album? Start yet another super group? Make a cameo appearance in another movie? Go back to reupholstering furniture? No matter what the busiest man in the music biz decides to do, you know it's A) going to be high quality and B) going to be absolutely fascinating.
Dave Grohl
Even if you're not into his rugged good-looks you can't deny his charisma. Throw in the fact that he was in 2 (soon to be 3?) of my favorite bands of all time and I don't stand a chance. Plus I've never seen him not chewing gum, which to me equates to a propensity for fresh breath.
Chris Cornell
I think my long-term man crush for Cornell has made itself pretty self-evident throughout the life of SubEx. But who could blame me? I defy you to find me somebody who doesn't go gaga over a man with the pipes of an angel, the body of a 25-year-old surfer, and the sensitivity to write some of the greatest songs of the decade?
Prince
This guys oozes so much sex during each and every performance that it is sometimes uncomfortable to watch this guy play while fighting back arousal. And if the old adage that a guy that plays an instrument is immediately hotter holds true, what would one say about a guy who's an expert at 23 instruments? I rest my case.
Stevie Wonder
If it's true that losing one sense makes the others stronger then sign me up to see what this guy could do in the bedroom. For instance just look at how nimble those fingers are as he playful strokes his clavinet. And not that I even have to say it, but once you go black…
Daryl hall
Maybe because of his enviable golden locks, or perhaps just because I've just been watching a little too much of his monthly "Live From Daryl's House" internet show but I think I could, in fact, 'go for that'. Not only was he both the brains and beauty of his 80's duo, he's also somebody who can appreciate a man with a good mustache (which might explain how Oates kept his job for so long).
Ben Kweller
Sure he may have put on a little weight as of late, but really it only serves to make those chubby cheeks even more squeezable. His solo debut 'Sha Sha' is still one of my all time favorites, and besides showing off his versatility, 'Changing Horses' shows he's still greatness. And like they say, everything (and I mean everything) is bigger in Texas ;)
=w=